We are a web developer located in Honolulu, Hawaii. We will provide web-related serveice such as Buiding Website, Search Engine Optimization – SEO, WordPress, MLS/IDX integration, E-Commerce, printing artworks and much more.
Please inquire us about your next project.
Building Web Site using WordPress
In the case of corporate website creation in Hawaii, the content management system (CMS = Contents Management System) such as WordPress is increasing.
In the case of WordPress, you can create a custom theme for your company, as well as create a home page using free and paid themes and customize it, as well as create a completely custom website.
In addition, we will create a website that incorporates various functions such as inquiry forms, MLS, shopping carts, member-only functions, appointment and tour reservation systems, etc.
Acquisition of domain, setup of server, setting of e-mail address, creation of website with responsive design, search engine optimization for website-We cope with setting of SEO, Google Analytics and Google Serach Console, goal setting, etc. .
Of course, please inquire about CMS other than WordPress and website creation without CMS.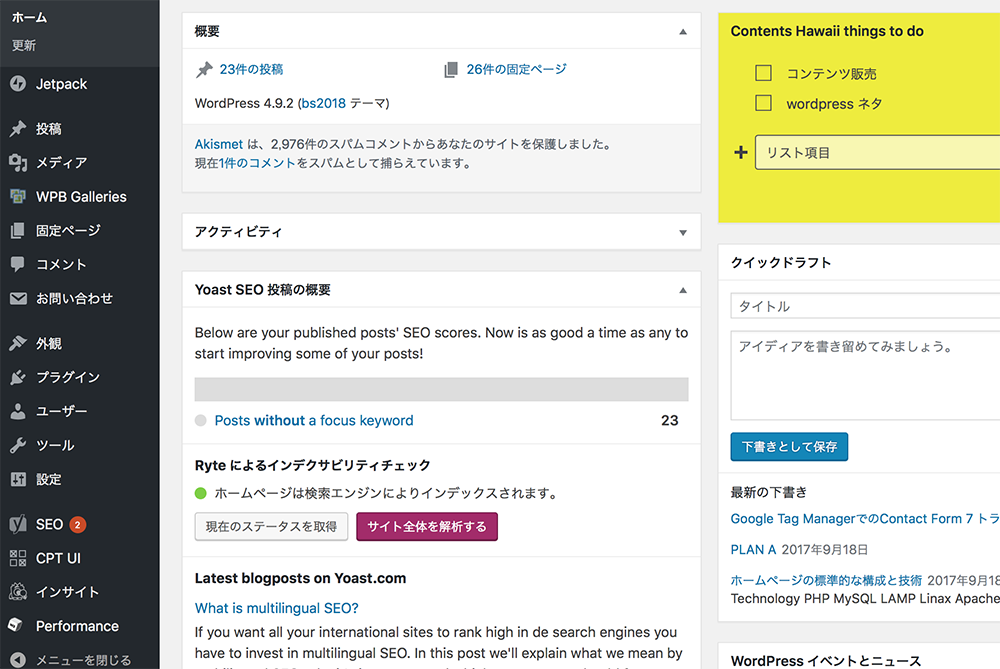 Responsive design support
The design that makes one website appear properly on multiple devices such as smartphones, tablets and computers is called responsive design.
In our company, we will create a website with response design.
You can also use the popular WordPress custom theme and create a website that supports responsive design.
Produced a multilingual website
In addition to Japanese, English, and bilingual support, we will create websites that support multiple languages in Hawaii and the United States.
(For languages other than Japanese and English, the client needs to submit additional language texts.)
Apply search engine optimization (SEO)
It is the same as there is no home page not displayed in the search results.
Search engine optimization (SEO: Search Engine Optimization) is a technology that allows you to be top-ranked with the search results of pre-set keywords, such as "Hawaii + Product Name".
We not only create a website that has SEO applied to your entire site, but also apply SEO to each page that introduces individual products and services.
Of course, we can also help you choose the right keywords for each website.
>> For details, see the SEO page in Hawaii
"Hawaii" monthly search volume
| | | |
| --- | --- | --- |
| Rank | keyword | Monthly search volume |
| 1 | Hawaii | 165,000 |
| 2 | Hawaii Sightseeing | 22,200 |
| 3 | Hawaii Hotel | 14,800 |
| 4 | Hawaii Tour | 14,800 |
| 5 | Hawaii Condominium | 6,600 |
| 6 | Hawaii Cheap | 6,600 |
| 7 | Hawaii Recommended | 5,400 |
| 8 | Hawaii Honolulu | 3,600 |
| 9 | Hawaii Travel Expense | 2,900 |
| 10 | Hawaii Recommended Hotel | 2,400 |
As of December 2018 Google average number of searches over the past year
Area-Japan, Language-Japanese
Produced a website linked with SNS
Collaboration with SNS is essential to increase the number of visitors to the website.
You can post blog articles automatically to Facebook and Twitter, import Instagram feeds to your homepage, and navigate from the Facebook timeline to your homepage.
Of course, collaboration with SNS not only leads to the home page, but also has the effect that the home page itself becomes gorgeous by the addition of many photos that are unique to Hawaii.
We also help to create SNS ads on Facebook and Pinterest, and business listings on Google and bing.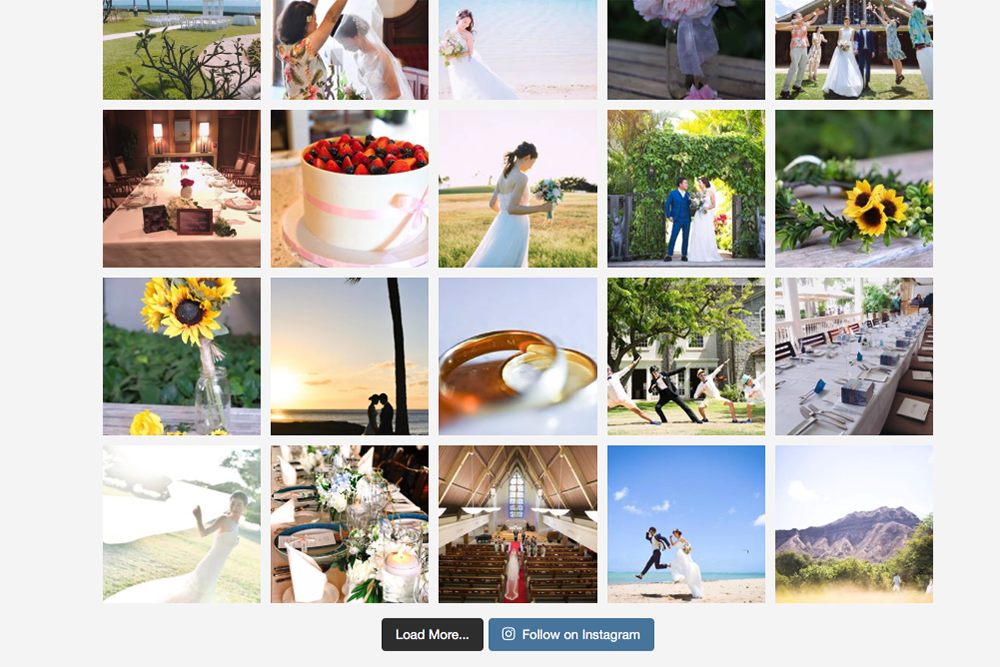 Built in shopping cart
We create a website incorporating a shopping cart.
Currently, in the US mail order business, the style in which the shopping cart service is incorporated into the company's home page is the mainstream.
If you are thinking about selling products on your website, we recommend creating a website that incorporates a shopping cart system.
We specialize in Japanese shopping cart services, especially bigcommerce, and create customized websites for local businesses in Hawaii.
Of course, it is also possible to create a website incorporating the shopping cart service in English.
In addition, we connect point-of-sales POS systems such as Shopkeep and online shops, and it is possible to unify the stock, and to respond to product shooting & editing and registration to a product database.
MLS / IDX embedded
Create a website incorporating MLS / IDX.
If you are buying or selling real estate, it is recommended that you use the site's Multiple Listing Service (MLS), which is commonly used in the US real estate industry, on your website by using the Internet Data Exchange (IDX) service.
By incorporating MLS, it is possible to search for properties on the market or narrow down according to conditions.
Real estate associations in each state have published MLS, and of course, also for Hawaii, local real estate groups have published MLS in Hawaii.
Real estate associations in each state have been published MLS, and of course, also for Hawaii, local real estate groups have published MLS in Hawaii.
In addition, many parts of MLS can also be Japaneseized using plug-ins and Java Script.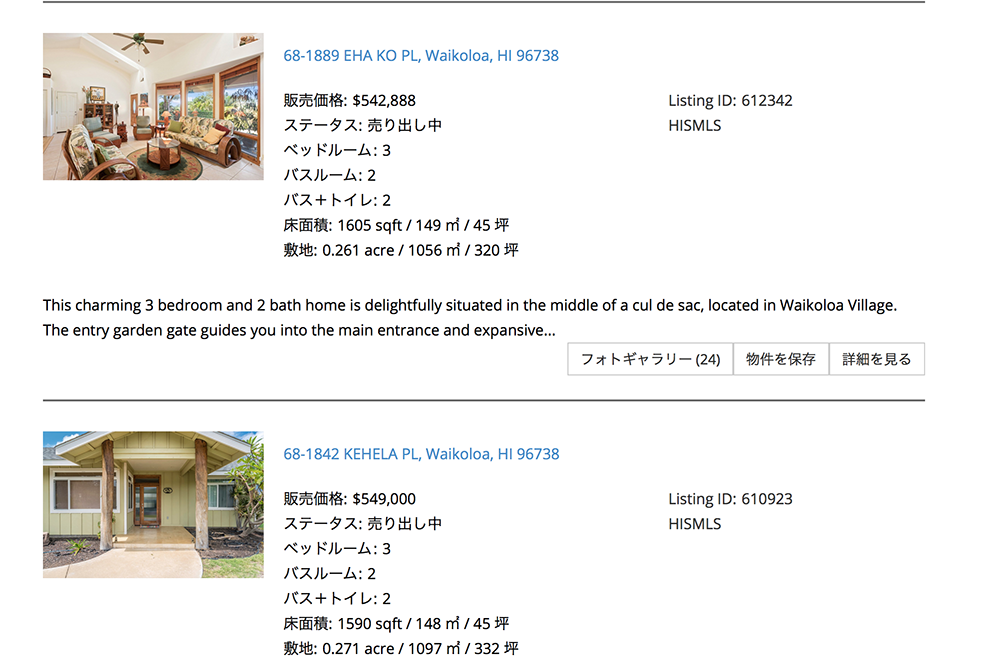 Include appointment calendar
We will create a website incorporating a reservation calendar.
There are many tour operators, spas and nail salons in Hawaii.
We are creating a website that incorporates a reservation system and a reservation calendar for Hawaiian businesses that provide such services.
It is also possible to incorporate a reservation system such as Fareharbor for Hawaiian tour companies.
Website maintenance
Update of WordPress itself, update of plugins and themes, backup of database, deletion of spam comment, correction of broken link, correct markup of contents, resizing of photos and optimization of compression rate, etc. We accept maintenance.
Website Production Cost
New website creation
Website creation without CMS from $ 2,500
Website creation using CMS from $ 2,000
Search engine optimization
$ 100 per page with new website creation
When applying SEO to an existing website From $ 150 per page
Shopping cart system production
US shopping cart built-in from $ 2,000
Japanese and English Shopping Cart from $ 2,500
Embed MLS / IDX
MLS / IDX built-in English only from $ 1,500
MLS / IDX integration and localization from $ 2,000